iMahal Interview Series:
David Gimbel
July 22, 2001

iMahal: This is quite an interesting story. A respected researcher and teacher, someone you admire, forcefully insists that you study with her in the discipline you love: Near-Eastern art and history.


Gimbel: Yes. That is what I had really wanted to do, but until then I had had no intention of doing it, and I got strong-armed into doing it by an old lady! What is interesting is that years later, after she died, I read a biographic piece that she had written, and it turned out that the very same thing had been done to her. As a young woman growing up in Vienna, she had wanted to go into archeology and had wanted to study the Cretan and Mycenaean civilizations.

..she did exactly to me what had been done to her..

But she had a relative who was a famous Egyptologist named von Bissing. She was sent by her father to have lunch with the guy, and he said, "No, that's utter nonsense. You are to go to the University of Vienna and you are to study with Victor Christian." So she ended up at the University of Vienna studying with Victor Christian who asked her, "On what do you intend to write your dissertation?" She suggested some subject and he said, "No, you are to study ancient cylinder seals," which she then studied and became one of the leading experts on. So I think that she did exactly to me what had been done to her. She just assumed you find a person you think is intelligent and, to put it kindly, you steer them in the right direction.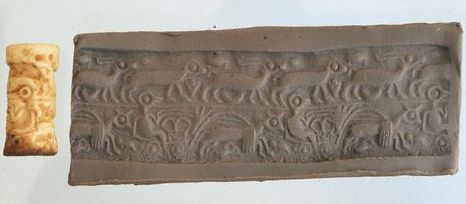 Cylinder Seal
All photographs copyright and courtesy of David Gimbel or Archaeos