iMahal Interview Series:
Olivia Hussey
January 20, 2001



iMahal: Okay, now let's pretend we are doing a television talkshow! It's time to roll the clip, so to speak. Please do tell us about your latest movie project, Island Prey. Why did you decide to do this one? What is the movie about? When will we see it in theaters?


Olivia: I was contacted by William Riead who wrote and directed the film. He told me that he had written the role of Katherine with only me in mind. I was very touched by that and we then met for lunch. I immediately felt very comfortable with Bill and his lovely wife Lisa and decided to do the picture. It turned out to be a wonderful experience. The film is about a woman who is married to a very successful man and feels she is playing second fiddle to his work. She then falls into a brief affair and is then basically stalked by a strange fellow and his obsessions. I am not sure as to the theater release dates. There is so much that goes into the release of a film after it has already been finished! I guess it is time for my patience to take hold. That's fine though. I have been through this before!!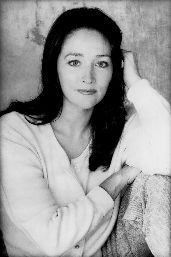 iMahal: So Island Prey is finished -- what are likely next movies for Olivia Hussey?


Olivia: I will be doing another film in the early summer. Again I will be working with Riead, which is wonderful. The film is called "Lost." I then am looking forward to doing Teresa. This is a life-long dream, and I can't wait!


iMahal: And what is next for the "off hours" Olivia Hussey? What things are you passionate about? Do you have any "pet projects" so to speak?


Olivia: I have no off hours!! We have a seven year old little girl. Need I say more? My kids and my animals take up much of my time. I think when India, my daughter, is a little older I would love to go back to India (the country) again. It feeds my soul in a very magical way. Also I keep busy working on my autobiography, which I hope to have finished by the time I finish Teresa.

---
Note: iMahal founder Joseph Judge conducted this interview with Olivia Hussey. They met when attending a private screening of her latest film, Island Prey, in Beverly Hills, California. Joe was impressed by several things that evening. He was surprised by Olivia's immediate interest in any portal associated with India. Her eyes lit up and she talked with passion about her love of the country and of her special guru. "You should go to India," she said, "it will change your life." And then there was the story told by her musician husband, David Glen Eisley, about their parrot. It seems this bird has developed a nasty vocabulary while perching in the study when David pays bills. Director Bill Riead, when asked what one word best described his leading lady. "Elegance," he said, "but one word is certainly not enough to describe Olivia. She is a loving mother and one of the kindest people I have ever met."