iMahal Interview Series:
Karen Snow
March 12, 2001


iMahal: From everything you have told us, it seems obvious that you have already been quite successful by any measure. So where to from here? What are your future ambitions?

Karen: I still feel as if I am at the early stages of running my own business, and have more growth ahead. My goal is to continue to evolve my business in such a way that I broaden my skills and continue to stretch myself, while also having fun!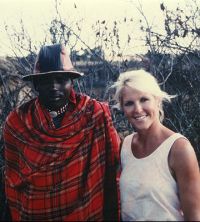 iMahal: Speaking of fun, we understand that you have traveled extensively, all around the world. Tell us about this. What are some of the more exotic places you have visited?

Karen: Yes, I've been very fortunate to have traveled quite a bit. I am a HUGE advocate of taking breaks to reinvigorate myself and refocus on my priorities in life. For quite a few years my way of doing this was to leave the country for a month, preferably to a developing country with a different culture (and little/no access to voice mail!). With every career shift I've made, I have also taken a six or seven month sabbatical. All told, I've traveled to about 60 countries.
... I keep getting drawn back by India's diversity, culture, and history ...
I have particularly enjoyed the Himalayas -- Nepal, Bhutan, Tibet and Ladakh, southern Africa, India, and some of the great scuba diving destinations of the world. I have been to India at least four times -- I keep getting drawn back by India's diversity, culture, and history. Highlights were exploring Rajasthan, Lakakh, Srinagar, Varanasi, Trivandrum, and Calcutta.

Some of my fondest travel memories include early morning safaris in Botswana looking for leopard tracks; sailing a felucca down the Nile and hearing the muezzins calling the faithful to prayer; experiencing the ghats in Varanasi, India; teaching schoolchildren how to sing "the itsy bitsy spider went up the water spout" in Ladakh; sunrise treks in Nepal terai on elephant-back; watching skillful and elegant Balinese dancers; scuba diving the Ras Mohammed Reef off of the Sinai peninsula and the granite formations in the Seychelles; and of course, shopping in markets and bazaars around the world!....I could keep going. I've had such fabulous travel experiences.


iMahal: That is a lot of travel. But our readers might be curious to ask: was the travel for business or pleasure? Also, do you think your broad knowledge of the world and other cultures helps you professionally and personally?

| | | |
| --- | --- | --- |
| | | ... I cannot stress enough how important it is for people to travel, to learn and appreciate ... |
Karen: The destinations I mentioned above were for pleasure (I wish I had clients in the Maldives!). I also have spent quite a bit of time traveling for business; most of that was in Western Europe, with infrequent travel to Asia. I cannot stress enough how important it is for people to travel, to learn and appreciate different ways of thinking, different beliefs, and cultures. I believe it has made me more open-minded and flexible in business, and I personally enriched my life in ways that are hard to describe. It's shaped a lot of who I am today.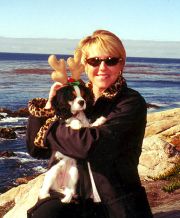 iMahal: Well it's certainly apparent that travel is a passion of yours. What else is there in your life that currently motivates you?

Karen: Yes, travel is definitely a passion, yet it is now on the back burner. I have a new puppy and she's keeping me close to home these days. Fortunately my clients like her too, as she travels with me!


iMahal: You have chosen your own path to success that is quite unique. As you know, our iMahal audience is primarily college bound or young professional. What advice would you offer them for their own succcess?

Karen: Take charge of your education and your career. You have a lot of choices to make, and think about them realistically vis-à-vis the kind of lifestyle you really want to have. What's important to you? What are your priorities? Be open minded and honest about your passions, and follow them. Life is too short to do something you don't enjoy, so use your time in school to explore your options. Remember, too, that you can have multiple, enriching careers throughout your life. So, don't be encumbered with believing you have to pick just one! It's also okay to change your mind!


iMahal: Many thanks for spending the time with us. We wish you continued success.

Karen: Thank you for the opportunity to share some of my experiences.


Note: iMahal founder Lokesh Datta conducted this interview with Karen Snow. Although, at one point, Karen and Lokesh worked for the same consulting firm in San Francisco, they did not meet until after leaving the firm. Quite coincidentally, they met later when the same client had hired them separately as independent consultants. Ever since, Karen and Lokesh have been good friends and professional colleagues. Lokesh was pleasantly surprised at Karen's extensive knowledge on India, which she has visited several times. Not only is Karen an extra-ordinarily successful consultant, she is the most traveled person Lokesh has ever met.