iMahal Interview Series:
Bill Riead
November 12, 2000

iMahal: Okay, now let's pretend we are doing a television talk show! It's time to roll the clip, so to speak. Please do tell us about your latest project, Island Prey. What is the movie about?



Bill: Island Prey is a suspense thriller. It is a movie about a woman who makes a mistake; she has an affair, only to find out that her husband was burying himself in his work so that they could spend more time together. She feels horrible about the affair, and hopes he doesn't find out about it, but he does.
I have a strong need to make films that have a message. It is so difficult to get a film made that I don't want to finish with it and say, "It's just entertainment." Or worse yet, "It was frivolous." So many films are frivolous, in fact have a bad message, such as sex, violence, and murder. What I want to do, with every film I make, is to have a message in there of some kind, even if I had to sneak it in.
I want the audience to benefit. The audiences are global for movies and documentaries and I want the audience to get some positive message from the film. The message in this particular film is: Don't betray your spouse, it might be a huge mistake. That was my little moral lesson that I wanted to get across.


iMahal: The message is a prime motivator for you when you make your films.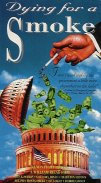 Bill: Exactly. When I did a documentary on heart disease, I was trying to educate people about the causes of heart disease. And when I made a film on smoking, the tobacco industry was spending 2.2 billion dollars a year just on billboards in the US. These advertising campaigns were terrible: Joe Camel was aimed at children, and You've Come a Long Way Baby, was aimed at women. When I think about 2.2 billion dollars -- what that money could do for mankind -- it still makes me mad. That money was spent to give our children an addiction; that is what motivated me to make the film, Dying For a Smoke.
And I made a film on alcohol abuse because I had a personal connection with that problem. My assistant, who worked with me at CBS News and then on films in LA, drank himself to death. So I made the documentary One for the Road on the subject of alcoholism because this person -- who my wife and I thought the world of -- was completely taken over by alcoholism.
I made the film on heart disease because my father had died of a heart attack and my way of dealing with that kind of grief is to grab my camera and go explore it. I found out what caused a heart attack. It's two things, heredity and abuse. One or the other. Again, a reason to learn and a reason to help inform other people.
And so when I made Island Prey it's sort of a continuation of my documentary and journalistic background type of thinking. I made Island Prey with the idea, "We are all human. This woman made a mistake, and it nearly cost her life, her husband's life, and their marriage." It was very important to me to do a good movie and I feel that we achieved that.
I think the best movies have to do with love triangles. Titanic was not about a boat sinking. It was about a love triangle. It was about this young man meeting this young woman. She was in first class and he was down in the belly of the boat. She had a fiance, from an arranged marriage, and she was sneaking off with this young man. Hugely successful. Another example is Doctor Zhivago. Some of the best movies are love triangles; the strongest of human-interest stories.
So that's what Island Prey is, it's a love triangle, with a very subtle message of my own kind of moral thinking. But I admit this with great caution because I don't want people to think that I am preaching to them or stepping outside the genre of entertainment. It's just that I can't make a film without incorporating something I believe strongly about.