iMahal Interview Series:
Bill Riead
November 12, 2000


Bill: So it was a rather fast advancement in LA for me. In my first year I did about three industrial films, including the Gloria Marshal video. The moment I got that done I got a call from Columbia Pictures, saying come see us, and then I was assigned to Midnight Express, and it went very well from there.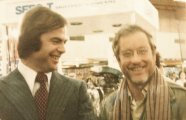 But the pace was frantic during the years that I made all those "The Making of" films. I was working day and night. I made them for Close Encounters of the Third Kind, China Syndrome, The Goodbye Girl, many of the major films of the 80s. I directed these behind-the-scenes "The Making of" films until1984 and then I made documentaries until 1997. It was a very full 25 years.

iMahal: You were very successful with a documentary on preventive heart disease, called Change of Heart, for which you were nominated for an award. Tell us about that award nomination and how it influenced your career. And why did you stop doing "The Making of" films and start doing documentaries?


Bill: I started doing documentaries because that's really what I wanted to do. I started to feel like my work was just frivolous. I found great satisfaction in doing documentaries.

In 1986 I was the first director for the Discovery Channel to be nominated for a CableACE Award. That award is the highest award given for cable. Movies have the Oscar, television has the Emmy, and cable television has the CableACE.

Of course, the nomination is a nice thing to hang on the wall, but for me the real thrill was to have my peers recognize me like that. This industry is very competitive, and to have them single you out and have them say, "You're doing the right thing" is wonderful. It is an affirmation that you are on the right track as far as your career is going.

And certainly a nice result is that the phone begins to ring and people say, "I want you to work for me."


iMahal: A lot?


Bill: Yeah, I've never lacked for work. I've always been over-worked.


iMahal: You got better choices in documentaries then?


Bill: Yes. I could do what I wanted to do. And I wanted to make films on subjects that were of interest to me that I felt needed to be made.


iMahal: In making that documentary, you worked with some famous people, including Rod Steiger and Walter Matthau. I am very curious to know: How do you connect with such people, and how do you wind up working with them?


Bill: Rod Steiger and Walter Matthau had both survived open-heart surgery. I read about this at the time that I was preparing to do a film on preventive heart disease. So I called the screen actors guild, asked for artist representation, and asked to speak to their agents. I told each agent that I was doing a documentary on preventive heart disease, and asked them to help me get a letter to their client. I then wrote a letter to Rod Steiger, sent it to his agent, who passed it on to Rod's home, and in the letter I wrote, "Please call me at the house because I want you very badly to be in my film." Soon the phone rang and it was Rod Steiger and he said, "This is Rod Steiger, I would be happy to help you."