Biography of Bill Riead
Bill Riead was born and raised in Clinton, Missouri. Following time in the military, he graduated from Western Illinois University with a Bachelorís Degree in Speech and Communications. While in college he worked for a CBS affiliate, KHQA-TV, as a newsreel cameraman and then as a full-time anchor and worked there for the remainder of his college years. Following graduation, he worked in television in Kansas City and then in New York where he joined CBS News. Later he was appointed the Foreign News Editor in the CBS European bureau in London. He also covered the Democratic and Republican National Conventions in Miami.

In the early 1970s, Mr. Riead formed his own production company in Los Angeles. Initially, his company produced corporate videos for business and industry, films that included commercials, sales presentation films, and in-house policy films. Television personality Regis Philbin, having been directed by Mr. Riead in one corporate video, recommended him to Columbia Pictures who subsequently made him the offer of writing and directing "The Making of" films that would promote their motion pictures. In the early 1980s, Bill continued this type of work at Orion Pictures.

Bill Riead
Bill then completed a series of four one-hour documentaries for television. The first, On Borrowed Time, dealt with the prevention of heart disease and featured Walter Matthau. This film received a CableACE Award nomination for The Discovery Channel, where it was shown 8 times. The second, One For The Road, dealt with alcoholism. The third, Dying For A Smoke, dealt with nicotine addiction and featured Chuck Norris. This film took First Place at the HeSCA International Film Festival. The fourth, Masters of Success, dealt with the subject of self-made millionaires and was hosted by Ed Asner. Bill also wrote, produced, and directed an action-adventure movie titled Scorpion, which featured international karate star Tonny Tulleners.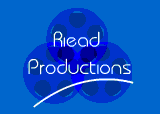 In the late 1990s, Bill began writing and directing
a series of feature films for his own production company. The first film, Island Prey, is a suspense thriller that stars Olivia Hussey, Don Murray, and Ed Asner. Ms. Hussey won acclaim for her portrayal of Juliet in the classic feature Romeo & Juliet, directed by Franco Zeffirelli. In development currently is his latest film, Lost, a love story that will also star Olivia Hussey.
In his career Bill has won numerous awards including: the Silver Certificate from the John Muir Film Festival, the M.I.P. Award from the World Health Organization, the Silver Plaque from Intercom, the Gold Award from Worldfest Charlston, and the prestigious Golden Eagle Award from the Council of International Non-Theatrical Events.